This Christmas romcom certainly slipped through the net for us. Maybe it's a case of save the best until last?
Written 15th December 2022 | Subscribe to our Christmas newsletter
Amazon Prime recently released a new for 2022 Christmas movies called 'Your Christmas Or Mine?' starring Asa Butterfield from the hilarious TV show Sex Education. The movie is available to stream for free for Amazon Prime subscribers in the UK, US and beyond.
The description from Amazon Prime reads:
"It's Christmas Eve...Eve. After waving goodbye in Marlyebone Station, new lovers Hayley and James can't bear to be apart for Christmas, so both decide to surprise each other and unwittingly swap trains by mistake. The snow begins to fall and with it they realise they are trapped with each other's family for the whole of Christmas. Will their love survive as their secrets get unwrapped?"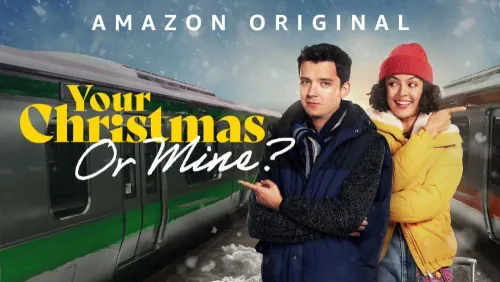 Image credit: Amazon Prime