"Unwrap the Magic: Netflix's Ultimate Christmas Spectacle with Brandy Norwood and Heather Graham!"
Written 24th October 2023 | Subscribe to our Christmas newsletter
In the clip, Norwood's Jackie and Graham's Charlotte, former college buddies, find themselves unexpectedly reunited for Christmas due to a GPS mishap. Watch as Charlotte endeavors to reveal that Jackie's seemingly flawless life may not be all it appears. Mark your calendars for its release on Netflix November 16!
Watch the trailer here: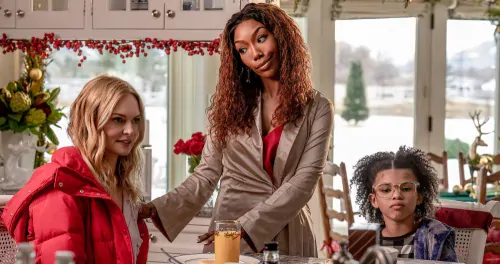 Image credit: Netflix
What's the plot for it?
Each year, Jackie delights in sending a braggadocious holiday newsletter that leaves her old college pal, Charlotte, feeling like a holiday humbug. But when fate unexpectedly brings Charlotte and her family to Jackie's doorstep, just days before Christmas, she seizes the chance to debunk the myth of her friend's seemingly perfect life.
Directed by Mary Lambert and penned by Charles Shyer and Todd Gallicano, "Best Christmas Ever" features an ensemble cast, including Heather Graham (known for "The Hangover" series) as Charlotte Sanders, Brandy (renowned for her role in "Cinderella") as Jackie Jennings, Matt Cedeño (from "Power") as Valentino Jennings, Jason Biggs (a fixture in the "American Pie" franchise) as Rob Sanders, Wyatt Hunt (from "Dopesick") as Grant Sanders, Abby Villasmil (seen in "Haul out the Holly") as Dora Sanders, and Madison Skye Validum (of "Ivy + Bean" fame) as Beatrix Jennings.
The film's executive producers are Steve Berman, Bryan Bordon, David Wulf, Charles Shyer, Todd Gallicano, Eric Jarboe, Jimmy Townsend, and Amanda Phillips, with Brad Krevoy taking on the role of producer to ensure the magic of this heartwarming holiday tale.