Every room is adorned with meticulous care and festive charm
Written 2nd November 2023 | Subscribe to our Christmas newsletter
Tricia Lehman-Shoemaker ingeniously transformed a secondhand Vermont Farmhouse Junior dollhouse, which she acquired for just $20 on Facebook Marketplace, into a charming Christmas-themed miniature house. Every room is adorned with meticulous care, she infused her creativity into the project, and many of the delightful holiday decorations and accessories were sourced from Hobby Lobby.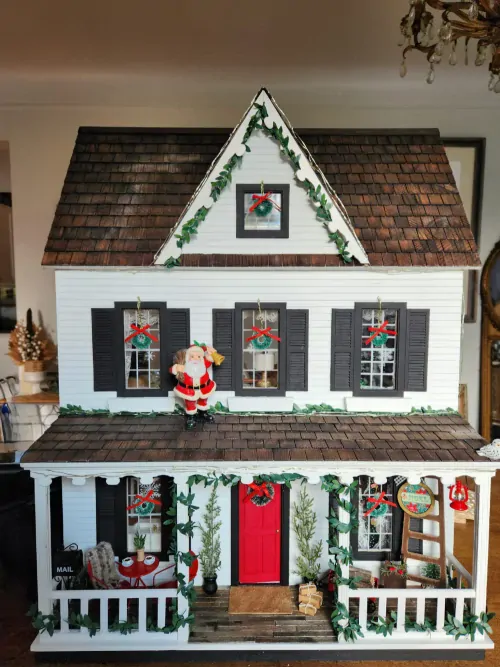 The front of the house has exquisite decorations, featuring wreaths adorning each window and the vibrant red front door. Garlands gracefully hang, and a cheerful Santa Claus figurine adds a festive touch to the entrance.
The kitchen features gingham red wallpaper and a red Christmas apron gracefully hanging from the door. Tricia has attended to every intricate detail. In the corner, a Christmas tree stands resplendent, adorned with snowmen, candy canes and red baubles.
A festive garland gracefully adorns the staircase in the hallway, while the dining room is meticulously set for a grand Christmas dinner, complete with another beautifully decorated tree nestled beneath the stairs. To add to the holiday ambiance, stockings are thoughtfully hung by the fireplace.
The bedroom is adorned with Christmas-themed bedding, complemented by delightful holiday pictures hanging on the wall. In the corner, a petite Christmas tree stands, accompanied by a matching gold-wrapped present beneath.
At the upper landing of the stairs, a generously-sized candy cane-themed Christmas tree proudly stands, surrounded by festively wrapped presents. Christmas pictures adorn the wall, enhancing the seasonal charm of the space.
See more images below: