Which is it?
Written 9th October 2023 | Subscribe to our Christmas newsletter
If you're in search of an authentic trick-or-treat dessert, then this is for you.
It may look like your typical Corn on the Cob but - No, it's not corn on the cob – it's, in fact, candy corn.
This recipe by Delish is crafted from edible sugar cookie dough, allowing anyone adventurous enough to take a bite right from the core. For candy corn enthusiasts, this one's a must-try. As for corn on the cob lovers? Perhaps not their cup of tea. Nevertheless, these candy corn cobs will add an adorable touch to any Halloween gathering or autumn get-together. So, prepare your sweet tooth and dive right in!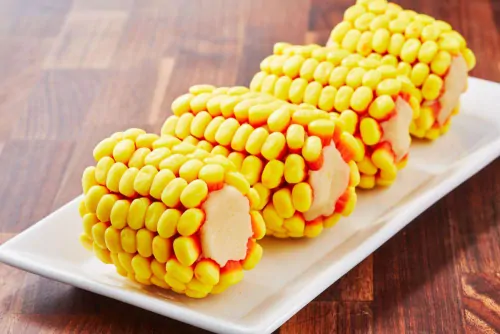 Image credit: Delish
Ingredients
1/2 c. (1 stick) butter, softened
1/2 c. granulated sugar
1 tsp. pure vanilla extract
1 c. blanched almond flour
1/4 tsp. kosher salt
2 (20-oz.) bags candy corn
Instructions
In a large bowl using a hand mixer, beat butter and sugar together, then add vanilla. Add almond flour and salt and beat until combined. Divide dough into 4 equal pieces. On plastic wrap, form each piece into a log. Refrigerate until solid, 2 hours.
When cookie dough is well chilled, push candy corn into cookie dough in rows. Refrigerate until ready to serve, at least 1 hour.
Find full instructions at Delish.com