The feel-good Christmas show featuring Tim Allen returns again this year
Written 24th September 2023 | Subscribe to our Christmas newsletter
Disney+ has announced the arrival date for "The Santa Clauses," which is set to premiere with a double episode on November 8th, followed by weekly releases. In the second season of the series, the Calvin family returns to the North Pole. Scott Calvin, played by Tim Allen, remains Santa Claus after his retirement plans were foiled in the first season due to the absence of a suitable successor. Now, with Christmas successfully saved, Scott shifts his attention to training his son Cal, portrayed by Austin Kane, to eventually take on the mantle of Santa Claus.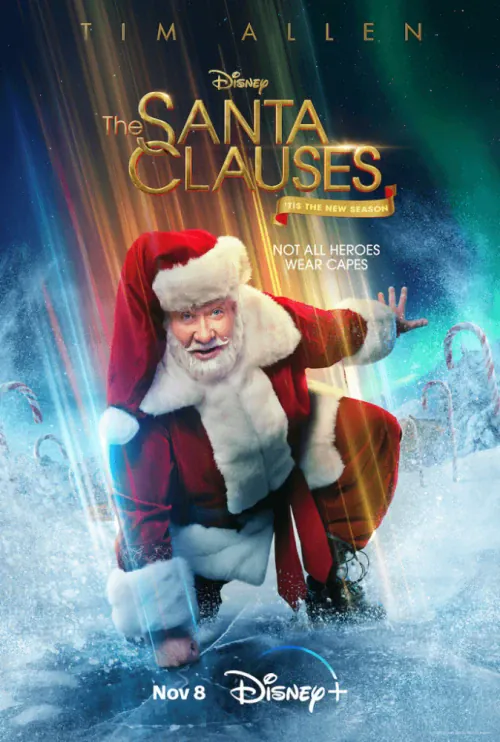 The cast for season two includes Tim Allen (also serving as an executive producer), Elizabeth Mitchell as Mrs. Claus/Carol, Austin Kane as Cal Calvin Claus, Elizabeth Allen-Dick as Sandra Calvin Claus, Devin Bright as Noel, Gabriel "Fluffy" Iglesias as Kris Kringle, and Eric Stonestreet as Magnus Antas, aka The Mad Santa. Matilda Lawler returns as Betty, Santa's chief of staff, in a recurring role. Other guest stars include Marta Kessler as Olga, Liam Kyle as Gary, Isabella Bennett as Edie, Sasha Knight as Crouton, Ruby Jay as Riley, Mia Lynn Bangunan as Pontoon, and Laura San Giacomo as La Befana, the Christmas Witch.
Jack Burditt, known for his work on "30 Rock," "Modern Family," and "Frasier," continues as the executive producer and showrunner. Kevin Hench, Richard Baker, and Rick Messina also serve as executive producers, along with Jason Winer and Jon Radler representing Small Dog Picture Company.
Notably, in its first season, "The Santa Clauses" ranked among the top 5 most-watched original series on Disney+ based on hours streamed from November 3rd to December 31st, 2022.