The classic book published in 1957 is getting a follow on story which will be published later this year
Written 24th February 2023 | Subscribe to our Christmas newsletter
Dr Seuss Enterprises will be publishing the book later this year and it will be titled 'How the Grinch Lost Christmas!' and will take place one year on from the original story and see the grinch trying to prove to the Whos he has grown to love the festive season, constructing a plan to win Who-ville's Christmas Crown by making a spectacular Christmas tree.
The story is written by Alastair Heim and illustrated by Aristides Ruiz. It is an official sequel but not based on anything from the archive of Theodor Geisel, AKA Dr Seuss.
It will be the first time that the original story has been expanded upon. The move was "carefully considered" according to president and CEO of Dr Seuss Enterprises, Susan Brandt.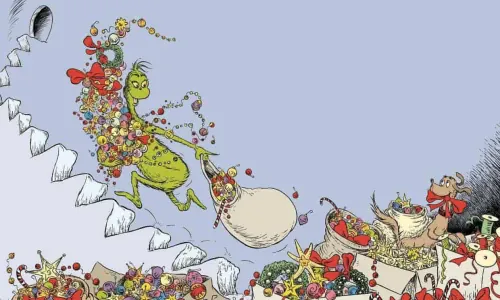 Image credit: Dr Seuss Enterprises, LP 2023
The Illustration above is from the new book How the Grinch Lost Christmas! which will be published later this year.