Why not skip the garland this year and transform your staircase handrail into a snowy penguin slide?
Written 3rd October 2023 | Subscribe to our Christmas newsletter
Looking to add a unique twist to your holiday decor this year? Say goodbye to the traditional garland, mistletoe, and paper chains; instead, transform your staircase into a charming frozen North Pole scene with a creative penguin slide.
With just a few simple steps, you can create a winter wonderland inside your home, even if the snow is absent outside. Proper Manchester recently shared captivating images on Facebook, showcasing a design that incorporates a strand of twinkling lights, artificial snow, and adorable fuzzy penguins to infuse your living space with holiday enchantment: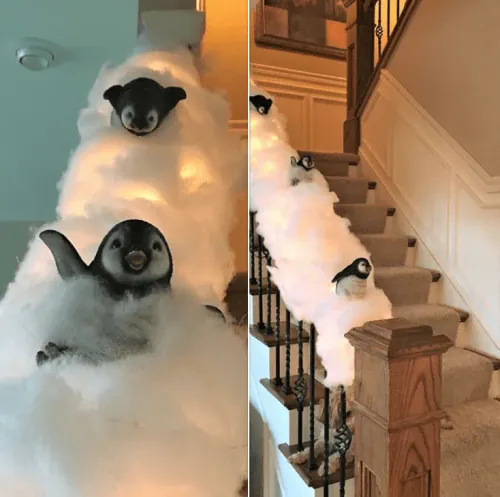 The original Facebook post:
Recipes from Heaven also offers an inspiring example of a banister adorned with penguins donning festive hats and scarves: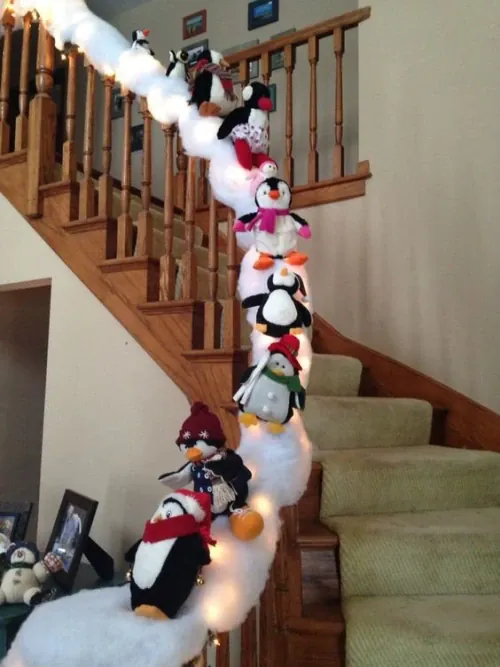 They've even provided a tutorial on Pinterest to guide you through the process:
To embark on this delightful project, you'll need faux snow. Instead of opting for the typical pre-packaged, web-like fake snow often found in stores, consider using a thick, craft-friendly white snow blanket. This type of snow is easier to handle and creates less mess. You can find a suitable option like the Christmas Snow Blanket Roll on Amazon, which can be customized to fit your handrail using crafting or fabric scissors.
If you prefer placing the penguin slide on the stairs themselves, you can wrap the snow blanket around old pillows or bedding, securing it to the floor with pins or ties.
Short on time or feeling less crafty? Amazon offers a holiday snow surfing handrail wrap that includes snow, lights, and sliding figures like Santa, penguins, and a snowman, all for $45.
To add a magical glow to your penguin slide, consider using a strand of lights beneath the snow. Opt for a battery-operated option to avoid tripping hazards from cords, especially since it's located near the stairs. Clear lights work well, but blue lights can provide an icy Arctic ambiance.