Kevin the carrot is back in this clever, fun and festive advertisement
Written 7th November 2023 | Subscribe to our Christmas newsletter
Aldi has unveiled its 2023 Christmas advertisement, featuring a delightful Willy Wonka-inspired theme and starring the adored character Kevin the Carrot. This marks the eighth consecutive year that Kevin and his companions have taken center stage in the German discounter's holiday campaign.
Crafted by the advertising agency McCann, the ad begins with five fortunate winners, including Kevin, eagerly anticipating their entry into William Conker's enchanting factory, filled with gravy wonders. Among the visitors are characters like Greedy Gluttonous Grape, Sulky Sour Rhubarb, and Mischievous Kiwi, each facing challenges along the way until Kevin emerges as the sole survivor.
Watch the advert here: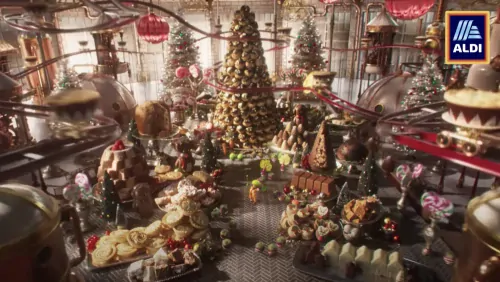 Image credit: Aldi
After successfully completing the challenges, Kevin generously shares gifts with the Plumty Dumptys before being recognized as the factory's rightful heir. He then selflessly asks, "Can I share my good fortune with everyone?"
The advert concludes with a heartfelt message from the narrator: "The spirit of seasonal goodwill filled the air, reminding us that Christmas becomes sweeter when shared."
Jenna Townsend, Aldi UK's marketing director, expressed, "It wouldn't be the festive season without Kevin the Carrot on our TV screens; we know our shoppers will love seeing him getting into the Christmas spirit as we welcome him back for his eighth year with us."
Aldi joins other supermarkets like Lidl, with its heartwarming campaign featuring a brave raccoon, and Asda, whose Christmas advertisement stars pop sensation Michael Bublé, in unveiling their much-anticipated Christmas advertisements for 2023.
We think this could be 'the' advert for 2023. What do you think?