The Christmas tree will be coming from Vestal, New York
Written 1st November 2023 | Subscribe to our Christmas newsletter
Tishman Speyer, the real estate powerhouse, declared on Wednesday that the 2023 Rockefeller Center Christmas Tree will hail from Vestal, New York. This 80-year-old Norway Spruce, measuring 80 feet in height and 43 feet in width, will tip the scales at a whopping 12 tons, as confirmed by Rockefeller Center. The magnificent tree is scheduled to make its way to the city later this month in anticipation of the grand lighting ceremony.
Watch the info video: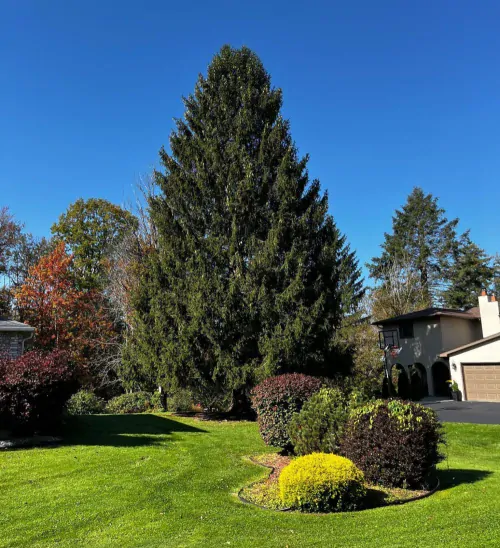 Image credit: Rockefeller Center, New York
Here's the latest scoop on the festivities and some fascinating tidbits about this annual extravaganza.
When is the tree arriving at the Rockefeller Center?
On Thursday, November 9, the 2023 Rockefeller Center Christmas Tree will be harvested in Vestal, and then it will embark on a journey of around 200 miles to reach Manhattan. It will grace the plaza on Saturday, November 11 and be elegantly raised into position.
The tree's arrival promises to be a spectacle as always, with a range of family-friendly activities for holiday enthusiasts to relish on the South Plaza from 10 a.m. to 1 p.m, according to event organizers. The Rock and Roll Playhouse will enchant with kid-friendly holiday classics, while independent bookstore McNally Jackson will host delightful storytimes.
Young ones will have the chance to pen letters to Santa, adorn their own ornaments, and even have their faces adorned with paint.
The festivities are open to the public, and those who RSVP in advance will be treated to a special surprise upon check-in. Find more details here.
How will it be decorated?
Once it reaches Center Plaza, the 2023 tree will be embellished with an impressive display of over 50,000 multi-colored LEDs, intricately woven across approximately 5 miles of wire. As the final touch, it will be graced with a majestic 9-foot, 900-pound Swarovski star, resplendent with a staggering 3 million glistening crystals.
When is the tree lighting ceremony?
The tree illumination ceremony is scheduled to commence at 7 p.m. ET on Wednesday, November 29. You can tune in to NBC's "Christmas in Rockefeller Center" for a live broadcast on television, through Peacock, or on any platform where you can stream NBC 4 New York.
This year's event will be emceed by Kelly Clarkson, a celebrated figure in the entertainment world, boasting both Emmy and Grammy wins. In an exciting twist, she will also take on the role of a performer. Remarkably, this marks her return to the special after gracing its stage 20 years ago!