If this was real I would certainly want an invite to this party
Written 4th November 2023 | Subscribe to our Christmas newsletter
This year's Waitrose Christmas advertisement is the ultimate party I'd do anything to attend. Adorned with an abundance of tinsel, lavishly expensive delicacies, and a bathtub overflowing with booze, it's a festive extravaganza like no other. Picture this: a couple, presumably in the midst of holiday preparations, find themselves in a living room decked out with an overwhelming amount of holiday decorations. Suddenly, the doorbell rings, sending them into a panic—apparently, their guests are incredibly eager and have arrived much earlier than expected (a situation that has likely never occurred in the history of house parties).
Watch the advert: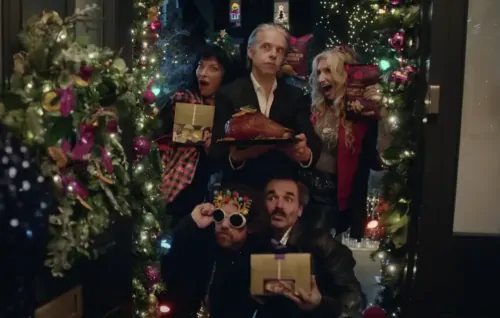 The night unfolds with an endless flow of delectable Waitrose food, including a champagne bottle impeccably adorned with a green velvet ribbon (truly a Christmas miracle). Guests arrive carrying everything from turkey crowns to mince pies, all set against the backdrop of Depeche Mode's synth-heavy anthem, "Just Can't Get Enough." To add a touch of unexpected humor, Graham Norton makes a brief appearance (I can only imagine the hefty fee for that cameo), prompting someone to exclaim, "Is that..."
"A Golden Buche de Noel? Yes, indeed!" Cue the groans.
While it may be as cheesy as the impeccably presented cheeseboard, it's not quite as ridiculous as the community support officers showing up at the door, asking in unison, "Excuse me, we've received multiple reports of a... Florentine-inspired Panettone?"
The advertisement, crafted by Saatchi & Saatchi and captured by photographer and director Autumn De Wilde, affectionately pokes fun at the Christmas excesses of the Waitrose-shopping elite. (By the way, a Golden Buche de Noel is essentially a blonde chocolate caramel yule log—it's absolutely indulgent.)
Beyond its silliness, the ad offers plenty of inspiration for upcoming festive gatherings. And if the idea of sharing chocolates with friends in a bathroom you've managed to lock yourself in doesn't appeal to you, there's always the bathtub filled with ice and alcohol. As Norton wisely concludes at the end, "When the food's good, everything's good." Here's to raising a Golden Buche de Noel to that sentiment.