Looking at the most popular Christmas colour trends for 2023
Written 7th October 2023 | Subscribe to our Christmas newsletter
Every year, Christmas colour trends evolve to reflect the spirit of the season in new and exciting ways. While classic red and green always maintain their timeless appeal, designers and decorators continually experiment with fresh combinations and accents. In recent years, we've seen a surge in modern, minimalist aesthetics with muted tones like blush pink, frosty blues, and silver taking center stage. However, traditional colors are far from forgotten, often reinvented with subtle variations and updated patterns. Ultimately, Christmas color trends offer a delightful canvas for creativity, allowing each holiday season to sparkle with its unique and inviting color palette.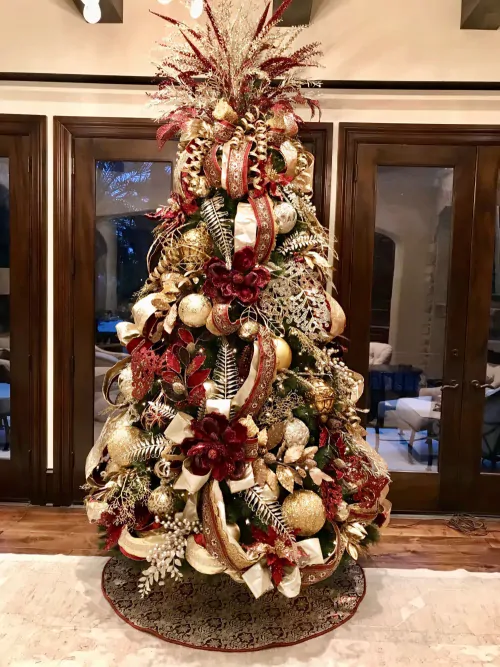 Image credit: Arcadia Floral and Home Decor
Burgundy
Burgundy is back in the spotlight! While recent trends leaned towards brighter and lighter shades of red, the deep, wine-like hue that harks back to classic Christmases is making a confident comeback, filling the air with a sense of nostalgia. Dive into this rich color with an abundance of berry picks, poinsettia sprays, velvety ribbons, and iconic elements like Nutcrackers, vintage instruments, and children's toys. Infuse your holiday decor with the enchanting spirit reminiscent of Dickens himself, making burgundy the focal point of your festive scene.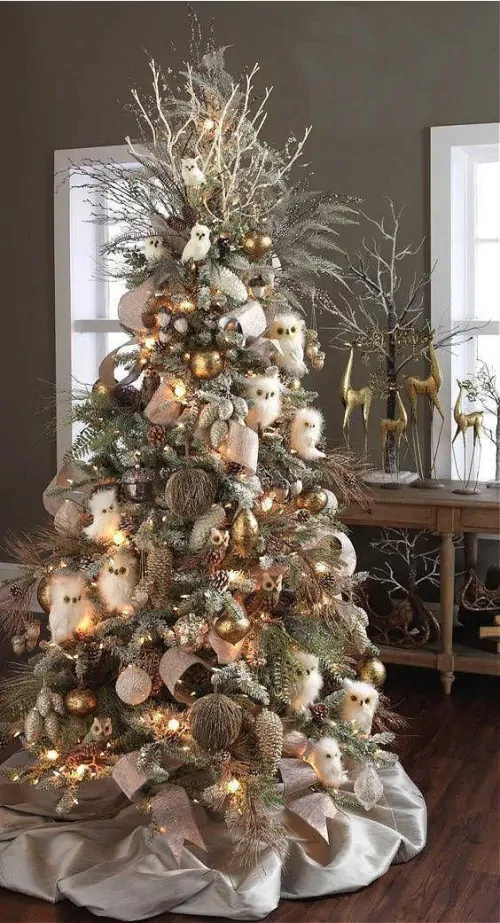 Image credit: Setting for Four
Woodland Theme
Woodland Christmas trees have gained popularity in recent years, offering a refreshing departure from the traditional green and red color scheme. These trees are adorned with warm and natural hues, such as rustic browns, deep forest greens, soft beige, and earthy terracottas. The decorations often include eco-friendly ornaments like wooden, burlap, or felt decorations, along with strings of warm white lights that evoke a cozy and rustic charm. Woodland Christmas trees bring a touch of the outdoors inside and create a harmonious, tranquil ambiance, making them a perfect choice for those who seek a more organic and environmentally conscious holiday decor theme.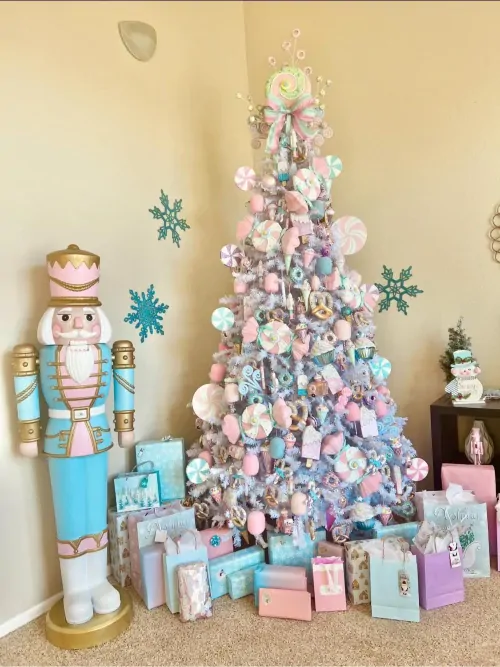 Pastel / Candy Floss
Pastel and candyfloss Christmas trees are a whimsical departure from traditional holiday decor, delighting with their sugary sweetness and soft, dreamy hues. These trees are adorned with a palette reminiscent of cotton candy, featuring shades like soft pinks, minty greens, baby blues, and lavender purples. Ornaments often include playful motifs such as gingerbread cookies, candy canes, and pastel-colored baubles. The twinkling lights on these trees cast a magical glow, creating a festive atmosphere that feels like stepping into a fairy tale world. Pastel and candyfloss Christmas trees are a delightful choice for those looking to infuse their holiday celebrations with a touch of youthful charm and enchantment.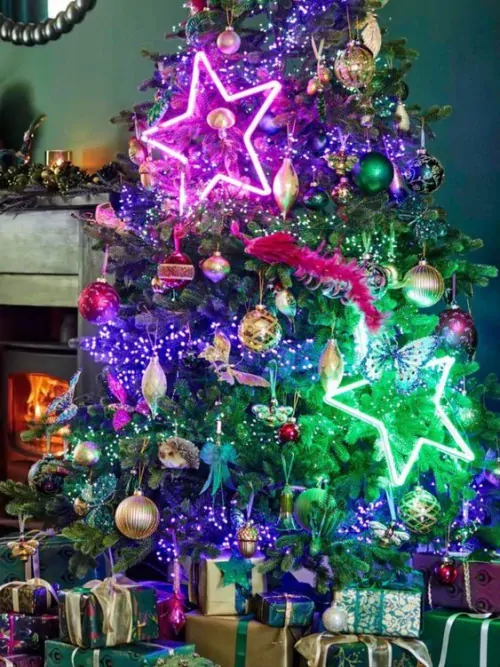 Image credit: Love Property
Neon
Neon Christmas trees are a bold and contemporary twist on traditional holiday decor. These trees come alive with vibrant, electrifying colors like neon pink, electric blue, neon green, and blazing orange. Their decorations often include neon-colored ornaments, strings of LED lights that pulse and shimmer in a dazzling display, and even glow-in-the-dark accents. Neon Christmas trees make a striking statement, injecting a burst of energy and modernity into holiday festivities. They're an ideal choice for those who want to celebrate the season with a sense of excitement and a touch of futuristic flair, creating a truly unforgettable and luminous holiday ambiance.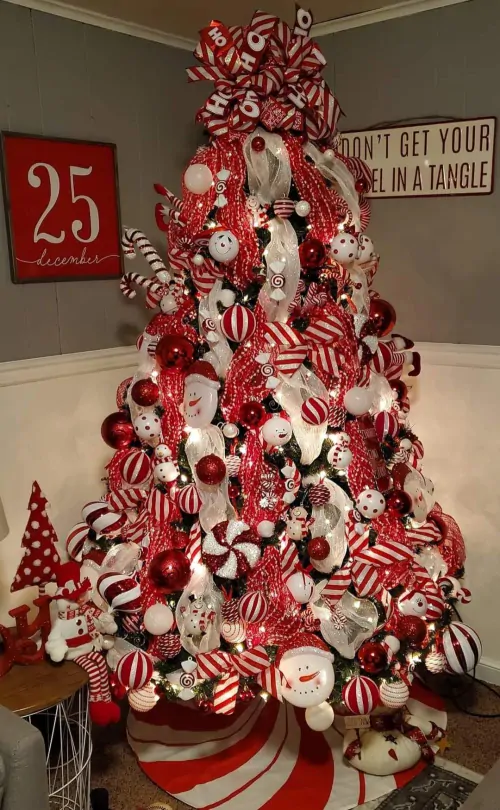 Image credit: Beverly Hellen
Candy Cane
Candy cane Christmas colors are a delightful and instantly recognizable palette that embodies the festive spirit of the holiday season. These iconic colors consist of bright, cheerful red and crisp, pure white, mirroring the classic candy cane's stripes. The rich red symbolizes the warmth, love, and joy that surround this time of year, while the pristine white represents the purity and hope associated with the holiday season. Candy cane Christmas colors are a timeless choice for decorations, ribbons, stockings, and festive attire, infusing homes and celebrations with a sense of tradition and merriment. Their enduring appeal evokes the magic of Christmas and spreads happiness wherever they are featured.