The 2023 Christmas jumper for the animatronic Tyrannosaurus Rex at London's Natural History Museum has been revealed.
Written 7th November 2023 | Subscribe to our Christmas newsletter
This yearly tradition showcases the museum's life-sized robotic dinosaur sporting an eco-friendly jumper to mark the festive season.
The design for this year incorporates motifs inspired by the museum's iconic dinosaur skeletons. Throughout November and December, visitors can admire this festive garment, which was specially created for the museum by Jack Master, a family-owned business located in Leicester, UK.
The jumper is made from a blend of 60% recycled cotton and 40% recycled polyester, the latter sourced from recycled plastic bottles. Impressively large, the pullover measures nearly 4ft (1.2m) around the neck, 9ft 6in (2.9m) around the shoulders, and just over 10ft (3m) around the body, weighing approximately 12-and-a-half times more than the average child's Christmas jumper.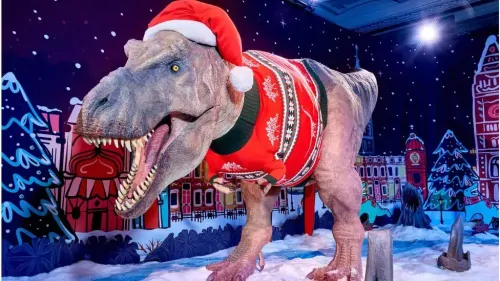 Image credit: Natural History Museum
Sam Barnes, retail commercial manager at the musem along with Francesca Peroni, visual merchandiser, said:

"We're delighted to unveil this year's exclusive Christmas jumper on one of our most famous prehistoric inhabitants. Our Christmas T. rex is free for all to see and experience into the New Year and all proceeds from our Christmas jumper range will continue to support our amazing public programmes and scientific work."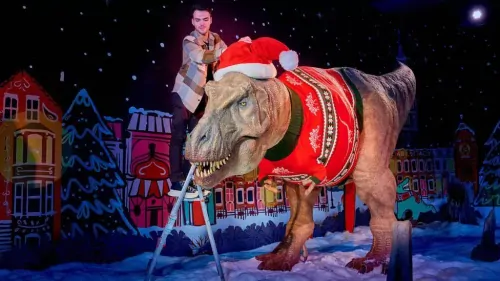 Image credit: Natural History Museum