Everyone should countdown to Christmas every day of the year.
Written 13th March 2023 | Subscribe to our Christmas newsletter
There are several ways you can countdown to Christmas. Here are a few suggestions: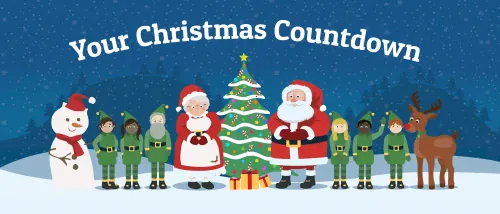 1. YourChristmasCountdown.com - YourChristmasCountdown.com is a website that provides users with an interactive and fun way to countdown the days until Christmas. This website has become increasingly popular among people of all ages who are looking for an easy and exciting way to get into the Christmas spirit.
YourChristmasCountdown.com is a fantastic website for anyone who loves Christmas and wants to countdown the days until the holiday season. With its customizable design options, multi-device synchronization, and fun games and activities, it's easy to see why so many people have fallen in love with this website. Whether you're a kid or an adult, this website is sure to bring a smile to your face and get you excited for the most wonderful time of the year.
2. Advent Calendar - You can use an Advent Calendar, which typically includes 24 small doors that you can open each day from December 1st to December 24th. Behind each door, you can find a small gift or treat to enjoy.
This is mainly enjoyed by children but over previous years advent calendars for adults have become a hit.
3. Christmas Countdown Apps - You can download a Christmas Countdown app on your phone or tablet, which will countdown the days until Christmas with a fun graphic or animation.
4. DIY Countdown - You can create your own DIY countdown by making a paper chain or a chalkboard with the number of days left until Christmas. Each day, you can remove one link from the paper chain or erase one number from the chalkboard. Another great idea for a DIY countdown is a scratch card calendar.
5. Christmas Countdown clock - You can purchase a Christmas Countdown clock that will display the number of days, hours, minutes, and seconds until Christmas.
6. Holiday-themed Calendars - You can use a regular calendar and mark off each day until Christmas with a holiday-themed sticker or stamp.
Choose the one that best suits you and have fun counting down to Christmas!